UPDATE
Download a copy of the 2016 Community Open Day report here
To be kept up-to-date on projects and what is happening in Our Port: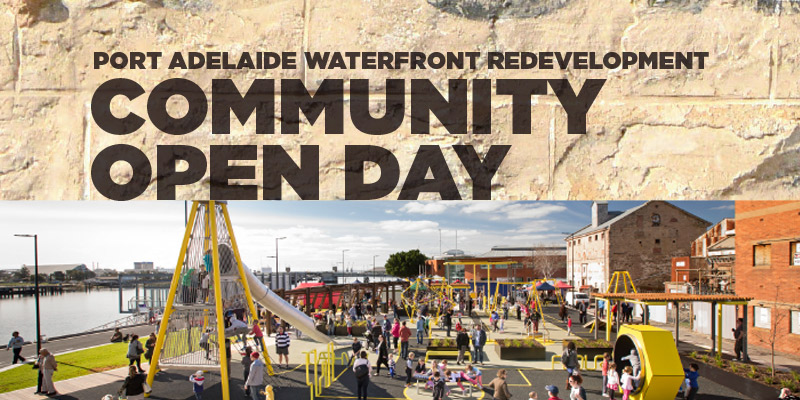 The future is looking bright and exciting in the Port and we want you to be involved.
Renewal SA is holding a Port Adelaide Waterfront Redevelopment Community Open Day on Sunday, 11 September 2016 so the community can gain a greater understanding and contribute their own thoughts on recent key infrastructure and activation works such as Hart's Mill and building upgrades, as well as events like St Jerome's Laneway Festival and Wonderwalls Festival.
From 9am to 2pm, Renewal SA staff will be in The Flour Shed at Mundy Street, Port Adelaide to also share future plans for activation events, development works, preliminary concept plans for four residential precincts, and the Historic Ships and Boats Strategy as part of the Port's rejuvenation.
Come and chat directly with the team and provide your feedback. The event is running in conjunction with the Wild at Hart market, and this weekly fresh food market is a great way to start a Sunday in Port Adelaide. So you can enjoy a wonderful community market whilst discussing the Port's future.
If you can't make it to the Community Open Day, you'll have a further three weeks to provide your thoughts through:
The Community Open Day is the next step delivering our community's vision of more people living, working, investing and spending time here. The feedback you provide will be used to inform the ongoing rejuvenation of Port Adelaide in terms of the maritime strategy and development plans in the coming months, which will be presented to the State Government.
After the engagement period, Jensen Planning + Design will produce a report summarising and analysing the feedback provided.
You can read more about the Port Adelaide Precinct Plan and the proposed residential developments.