Come to the South Australian Maritime Museum and discover the lost art of vintage photography — the way we captured the world before the smartphone — at family-friendly Sunday packed with workshops for children and adults.
Dress in vintage costumes and take your portrait in 19th-century studios
Try Shadow Catchers: camera-less photography workshops for children
Have the Tintype Traveller take your portrait on a sheet of tin using an 1860s-style camera
Use a camera obscura to project and draw a portrait
Watch kids make pin-hole cameras, insert film, and develop photos on-site
See the Beastie — an all-in-one camera and developing lab
Search for hidden portraits throughout Port Adelaide
Visit the photography exhibitions Undiscovered and Hidden Port.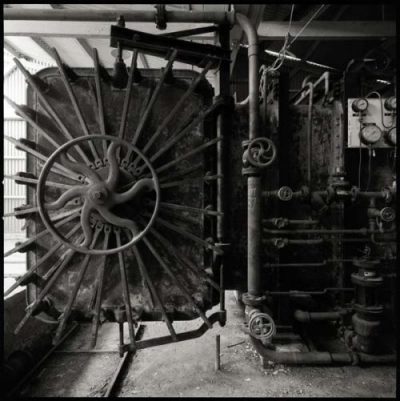 Free events with museum admission (bookings not required)
Demonstration: The Beastie, Lipson Street
Andrew Dearman demonstrates his all-in-one camera and developing lab The Beastie around the streets of Port Adelaide.
Activity: Silhouettes – Camera Obscura, Museum
A camera obscura is a darkened box with a convex lens for projecting the image of an external object onto a screen inside — a forerunner of the modern camera.
Our Steam Punk camera obscura — made from an upcycled copper kitchen flue ― is displayed in the Museum.
Sit at the drawing table and trace the silhouettes of those standing in front of the camera.
Activity: On a Paper Moon and Mr Bond's Studio, Museum
Long before Instagram, you could get your picture taken sitting on the moon. Often a fixture at fairs and carnivals, people sat in the crescent of a smiling paper moon as if lifted to the stars.
Mr Bond set up his studio in Port Adelaide in the 19th century. Hundreds of local families had their portraits taken against its staged scenery to mark special events.
Don dress ups, pose against your favourite set and take home an instant snapshot from two portable photo booths.
Activity: Hidden Portraits Scavenger Hunt, Port Adelaide
Search for hidden portraits throughout the Port. SAMM owns over 1000 glass negatives from Port Adelaide's Bond Studios. These whimsical often whacky images will be hidden in businesses around the Port for you to find.
Workshop: Paper Pinholes, Museum
Pitched at children (ages 4–10), this activity enables children to make and decorate a simple pinhole camera from a takeaway wok box.
Squinting through the 'lens' they will see the world upside down… just as the first photographers did.
Workshop: Shadow-catchers: Camera-less photography, Museum
Photograms are made by placing an object in contact with a photo-sensitive surface in the dark and exposing both to light. Where the object blocks the light, its shadow is recorded on the paper.
Children and adults will be able to do the same using objects from the Maritime Museum's collection.
Exhibition: Undiscovered / Hidden Port
Enjoy the photographic exhibition by Tony Kearney, Danica Gacesa McLean and Sandra Elms highlighting the Port's hidden heritage.
Also visit Undiscovered, a new photographic exhibition by Michael Cook.
Special events
Tour: Unbolting the Port
Led by noted local photographer Tony Kearney, the Unbolting the Port tour is one for amateur analogue photographers with a passion for urban exploration.
Photographer-led tours of Port's secret places will include Torrens Island Quarantine Station, Department of Marine and Harbors Building, and Hart's Mill.
Session time: 9.00am
Maximum 10 people
$30 per person, bookings required.
Workshop: Through the Pinhole, Weman's Library
Local photographer Dani Gacesa McLean will guide workshops enabling kids and their parents to construct a pinhole camera, load film and venture outside to take pictures of our Port.
The film will be developed onsite in a large portable dark box so participants can create their own prints.
Pinhole pics will be displayed at the Museum and judged by their photographers. Best entry wins an Instamax mini!
Session times: 10.30am, 12:30pm, 2.30pm.
Maximum of 20 people per session.
$15 per person, bookings required. Children's entry ticket to Museum free with workshop booking.
Workshop: Cyanotype Sunday in the Loft Lab, Weman's Sailmakers Loft
Cyanotype images were one of the earliest forms of photography.
This simple process uses fancy paper, some basic chemistry and the sun. Developed by English astronomer Sir John Herschel in 1842, it was Anna Atkins who first published cyanotypes in books that recorded her extensive seaweed collection.
In four workshops run by The Analogue Lab, participants will use creatures and plants from our maritime environment to create stunning images in cyan blue. An activity for children and adults.
Session times: 10.00am, 12.00pm, 2.00pm, 4.00pm
Maximum of 20 people per session.
$15 per person, bookings required.
Portraits: The Tintype Traveller, Jane Street Laneway and the Rock Pool Room
Have your portrait taken tintype style! Learn about how tintype portraits are created in the Tintype Traveller and take advantage of the 19th-century portrait price tag.
Portraits usually cost $250; for The Retro Lens, $50 only!
Photographers will take portraits in the Rock Pool using a traditional large format camera and process them in the tintype caravan on-site.
More information
Bookings are required for all workshops and tours.
Activities are free with museum entry, but some activities incur additional costs.
For bookings and payment, contact the SA Maritime Museum on 08 8207 6255.
The Retro Lens is a South Australian Maritime Museum event developed in partnership with Port Adelaide Enfield Council and Renewal SA.
---
SA Maritime Museum open times
10am – 5pm every day (except Christmas Day and Good Friday)
Fees
Adult: $12.50
Concession: $8.00
Child: $6.00
Family $29.50
Address
126 Lipson Street, Port Adelaide
Phone