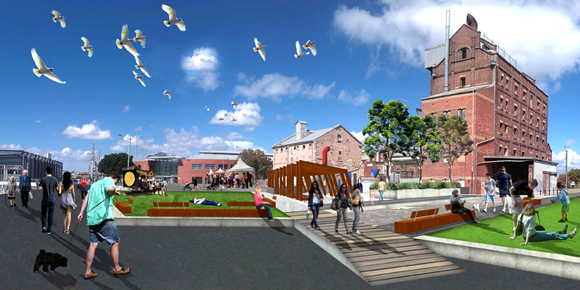 Aspect Studios have now finished the concept design work for the Hart's Mill surrounds.
Featuring an interactive and interpretive playground for children and dedicated spaces designed to accommodate markets and events, the plan also includes lush greenery and public amenities, such as seating, shade, a BBQ, a public toilet and car parks.
As part of the design brief, the vision is for Hart's Mill to become a destination for locals and visitors to enjoy while getting up close and personal to the water and loop path.
These plans are now being assessed as part of the Development Application process and Renewal SA expects to invite tender submissions for these extensive works in July 2013. Construction is scheduled to begin late August 2013.
Country Arts SA building update 
The Country Arts SA building restoration is going ahead full steam. Scaffolding has now been constructed and old window coverings have been removed.
The next stage of the restoration project will see the façade re-pointed and painted.
Sail on the One and All 
Our local Port Adelaide ship, One and All, will attend the celebrations of the centenary of the Royal Australian Navy in Sydney in October as the flagship for South Australia.
The Friends of the One and All are inviting passengers onboard for the voyage.
For more information on dates, prices and times, go to their website.