Construction of a new multi-million-dollar pedestrian bridge, that's set to drive activation across the entire inner harbour at Port Adelaide, will commence mid next year, following the selection of a jetty-style design by an SA builder.
The 80m bridge – to be located at the western end of Dock One – will connect Dock One and the Port Approach, creating a continuous pedestrian and cycling link from Port Adelaide's retail heart through to the emerging maritime heritage precinct at Dock Two.
It will also provide enhanced access for current and future residents of Kite Projects' 750-home master-planned community on either side of Dock One, including good connections to public transport along St Vincent Street.
The low-profile, low-maintenance bridge designed by Adelaide-based civil and building construction company, BluBuilt, was selected as the preferred option for its smooth interface with the current promenade and surrounding landscape.
BluBuilt, based in Largs North, will design and build the bridge on behalf of Renewal SA, utilising the services of Port Adelaide subcontractor Maritime Constructions, which will construct the bridge's piles. BluBuilt will now work towards finalising its design and obtaining the required approvals to be able to start works by June 2024.
The bridge is expected to be open for public use by late 2024, coinciding with Stage 4 civil and building works on the northern side of the Dock One residential development.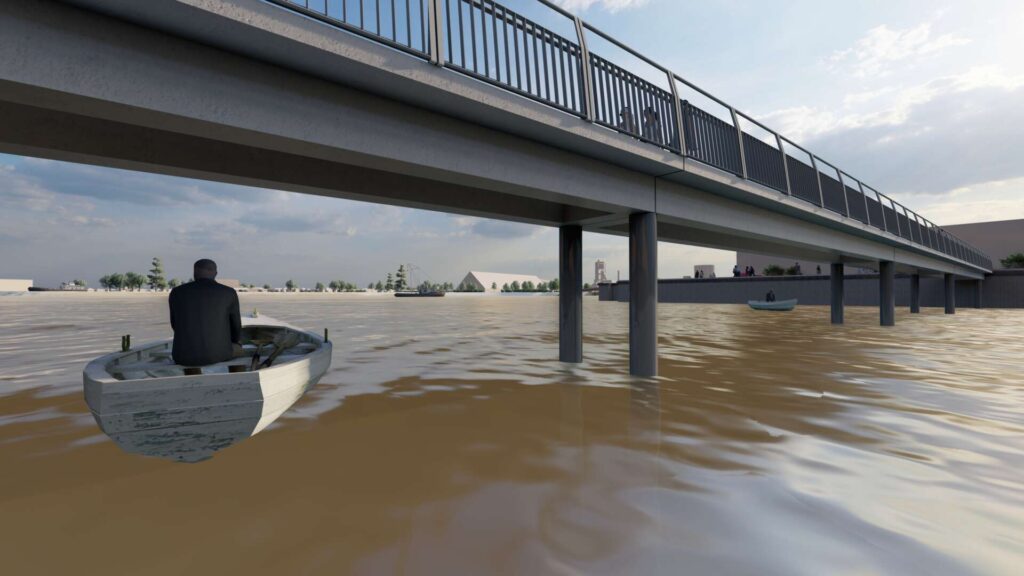 "First and foremost we wanted something that would enhance connectivity and urban revitalisation of the waterfront area," Renewal SA Executive Director, Major Projects and Property Todd Perry said.
"The intent is to make the inner harbour more accessible by foot. Ease of pedestrian and disability access was therefore crucial to this design, as was ensuring clear sightlines for residents living along the waterfront. The low profile of this bridge hits all the right notes."
The bridge, which is jointly funded by Renewal SA and Kite Projects, will be high enough to allow small river craft such as kayaks and dinghies to pass underneath.
BluBuilt General Manager Owen Richards said the bridge would provide significant public realm and activation opportunities, including the potential for seating or a kiosk, water access points and interpretive art such as printed motifs.
"We expect that this jetty-style design, whilst understated, will be a drawcard, in a similar way that the Granite Island Causeway or the Busselton Jetty are," BluBuilt General Manager Owen Richards said.
City of Port Adelaide Enfield Mayor Claire Boan said the bridge will contribute to the creation of a vibrant and cohesive community in Port Adelaide's revitalised waterfront area.
"This important development will greatly enhance connectivity and activate the entire area, supporting growth in the west and benefiting residents and visitors alike," Mayor Boan said.
From the bridge, Kite Projects will also deliver a new 8m-wide waterfront promenade, which will wrap around the eastern side of the Port River and under the Port River Expressway to the City of Adelaide Clipper Ship, a popular tourist attraction which moved to Dock Two in 2019.
"A river crossing is essential to connect Dock One and Port Approach. The Dock One pedestrian bridge will significantly benefit residents of Dock One and our future stages at Dock One North," Kite Projects Managing Director Damon Nagel said.
Minister for Housing and Urban Development Nick Champion said the Dock One development was set to deliver a significant housing boost in Adelaide's west and was one that would support future high-skilled worker populations.
"Boosting housing supply in the heart of Port Adelaide is even more important in the wake of the AUKUS announcement – and a future jobs boom in Adelaide's west," Minister Champion said.
"We recognise the rapidly transforming Port precinct needs the right infrastructure in place to support its growing population.
"Delivering this bridge is a vital component of the Dock One development, as more residents call the waterfront home and build their wider community."
The bridge will be owned and maintained by Renewal SA.
Other projects delivered by BluBuilt include the Minda Dunes Coast Park at North Brighton, the Sturt River Pedestrian Bridges, and the Hall Crescent Boardwalks.