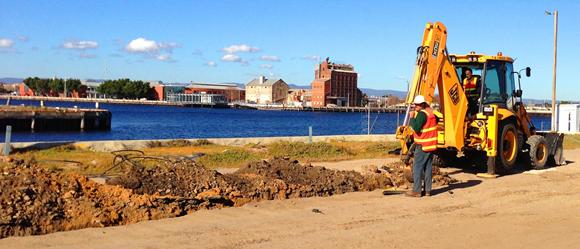 Loop path update
The construction of the inner harbour loop path is progressing on Jenkins Street and around Shed 26, north of the Port River. The works are currently focusing on putting in the infrastructure for lighting before the surface works begin. The loop path is expected to be finished by the end of the year.
Grant closing soon
If you haven't already sent in your proposal for Unexpected Port, you still have a couple of weeks to do so! The deadline for applications is July 15 and you can find out more about the grant on the Arts SA's website.
New shops arriving
Three new shops will shortly be opening on St Vincent Street. Interviews of short-listed candidates are taking place this week, so expect an announcement next week about which exciting, new businesses will be opening up in the Port. Renewal SA is working in partnership with Renew Adelaide in activating unused buildings.
Paying it forward, one coffee at a time
Red Lime Shack has launched its Red Coffee Connect with over 150 coffees already 'suspended' and 80 distributed to local disadvantaged groups. Find out more about the Suspended coffee scheme.
Also, don't forget Coffee Feast on Saturday 6 July from 1 pm to 3 pm. Find out more about events at Red Lime Shack's Facebook page.