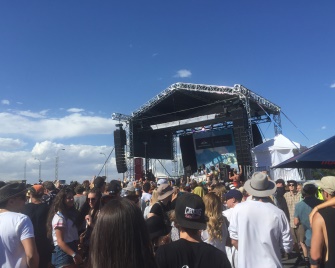 The New Year got off to a pumping start as Renewal SA welcomed two of Adelaide's most energetic music festivals, Moving Music and St Jerome's Laneway Festival to Port Adelaide. It was the first time for Moving Music in the Port, while the Laneway Festival came back for more after a successful 2014 festival.
Moving Music
We all know it's hard to stay still when there's good music to be heard. Moving Music takes this to a whole new level.
Breaking out of the CBD for the first time this year, Adelaide's favourite urban safari took off on 10 January 2015. Ticket holders were treated to a music-filled train journey from the city to Port Adelaide and then a mystery walking tour to the Flour Shed at Hart's Mill where the show really got started. In all, 500 people got to explore the Port in an interactive and spine-tingling way.
St Jerome's Laneway Festival
After tasting success at Port Adelaide last year, St Jerome's Laneway Festival returned for another mega event on 6 February. The crowds enjoyed a huge line-up of talented artists throughout the day and night.
Despite the heat, the completed Hart's Mill landscaping and additional shade kept festival-goers cool, with the recently refitted Flour Shed providing a perfect base for food and drink vendors.
And with local retailers and food vendors joining in the fun this year, it was a great way to experience many of the wonderful things Port Adelaide has to offer.