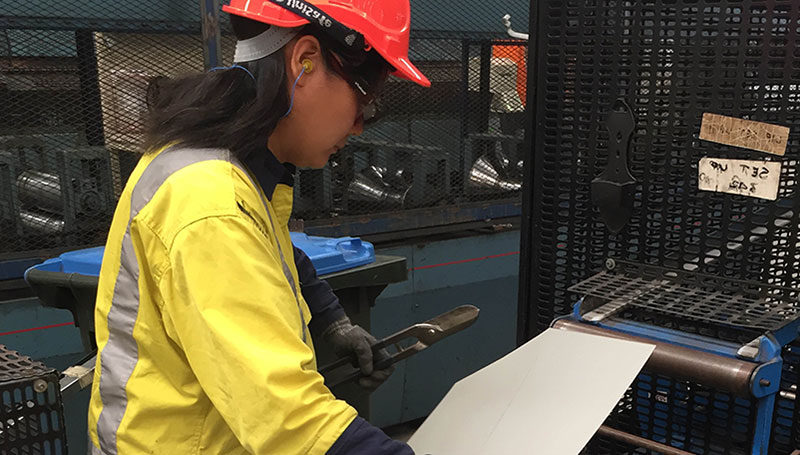 Applications are sought from motivated, committed women living in Adelaide's northern and western suburbs, who are interested in working in the steel manufacturing industry in this groundbreaking new program.
About the program
Graduates will complete the program with nationally accredited qualifications in Certificate II in Skills for Work and Vocational Pathways [FSK20113] incorporating accredited units for working in the warehousing and logistics industry.
Successful participants will benefit from industry specific training, work experience placements and real employment opportunities with BlueScope Steel through Challenge Recruitment.
Requirements
Program participants need to:
be physically fit and capable of undertaking manual work (able to lift 20 kg)
hold a current driver's license and a vehicle
be able to pass a pre-employment medical and drug and alcohol test
be able to use a computer
be comfortable working in a manufacturing or distribution work environment
be 18 years of age or older.
Learning support
Eligible participants will also be provided with language, literacy and numeracy support.
Where and when
Training starts on Monday 3 April and is held at TAFE SA Regency Park campus, 137 Days Road, Regency Park. Participants will be required to attend training 9.00 am–3.30 pm, Monday to Friday, for six weeks.
Cost
The program is subsidised through the Government of South Australia's WorkReady initiative. Eligibility and subsidy criteria apply.
Incidental costs may be incurred for registration of forklift license.
Participants will be provided with a shirt, pants and steel capped boots as part of personal protective equipment (PPE).
How to apply
Contact Bonnie before 20 March 2017 to discuss your suitability for the program and register for the screening session to be held on 23 March 2017 with TAFE SA at Regency Park.
Phone: 0466 501 609
Email: [email protected]
Information and selection session
Participants will only be selected for the program after attending the information and selection session.
When: Wednesday, 29 March 2017, 10.00 am – 12.30 pm
Where: TAFE SA Regency Park campus, 137 Days Road, Regency Park (enter off Entrance 2 on Days Road)
Report to reception in the main entrance building.
More information
Download the Renewal SA Works Program – Women in Steel information flyer.
Renewal SA's Works Program is delivering the Women in Steel Pre-employment program at Our Port in partnership with Challenge Recruitment, Workskil, BlueScope Steel Australia, TAFE SA, Interskills Training and WorkReady.