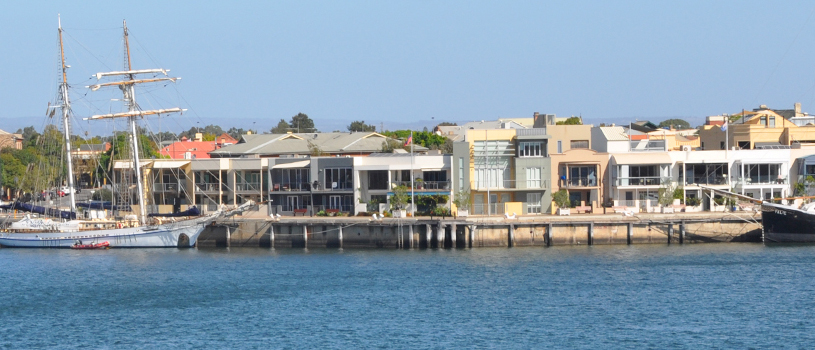 The State Government has appointed Systembuilt as the successful developer for 6–10 McLaren Parade, the first residential development opportunity in Port Adelaide as part of the Port Adelaide Renewal Project.
The announcement comes after an Expression of Interest process in late 2014 which sought applications for the development of the 843m² allotment located in the heart of the strategic McLarens Wharf precinct.
Renewal SA Chief Executive, John Hanlon, says the outstanding quality and innovation in design makes Systembuilt a perfect fit for Port Adelaide.
"Systembuilt has an outstanding track record in delivering innovative design, housing diversity and a commitment to environmental sustainability as demonstrated at its sell-out terraces 'Loft on Seventh' at Bowden," Mr Hanlon said.
"The Port Adelaide development will offer high-quality, contemporary design which provides a unique opportunity to connect with the existing character and community of Port Adelaide."
Systembuilt Managing Director, Neil Davis, says the opportunity to again partner with Renewal SA is a fantastic prospect.
"Along with Williams Burton Architecture + Interior Design, Systembuilt Homes are excited to be involved in a project which has the capacity to influence the ongoing redevelopment of Port Adelaide."
"Our design provides a four-storey apartment building incorporating a mix of studios and one and two bedroom apartments which look to interpret the maritime history of the Port in a contemporary design, giving buyers high-quality, modern living with a strong connection to the rich character of the surrounding area," Mr Davis said.
The State Government is working with Systembuilt to deliver a development offering which is inspired by the rich industrial history of the Port and aligns with the values of the Port Adelaide Precinct Plan.
Renewal SA is working with the community to create a 'living port' that celebrates a maritime past whilst embracing the future. The aim is to have more people living, working, investing and spending time in the Port.