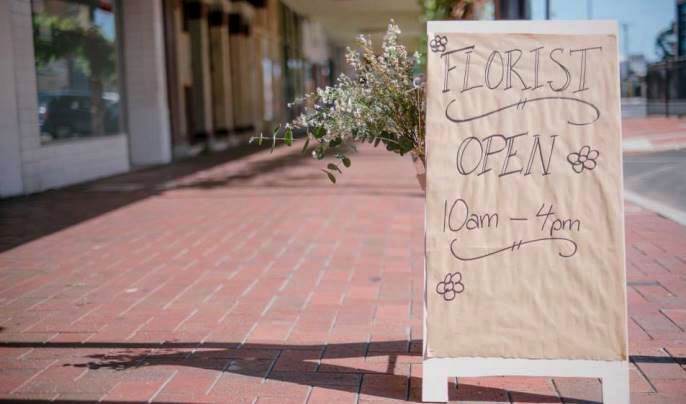 St Vincent Street picks up the pace
If you haven't been down to St Vincent Street lately, you won't have seen the exciting new stores already open. The street is really coming to life now with three Renew Adelaide projects — Honeybee Cycles, Peas & Beans and One Seed — launched in August.
Two new shops are also on their way, including a pair of sisters with a passion for recycling taking the plunge to open their new vintage clothing boutique, Cupboard Love. You can buy or sell your pre-loved clothes and accessories here.
The Pin Up Lounge will soon be busy with amazing transformations in hair styling and make-up on St Vincent Street. It's not going to be your average hair salon — expect a library room, iPad and free Wi-Fi plus a vintage store and luxury shampoo room.
Having been in business at various locations in Port Adelaide for almost three years, the staff at The Pin Up Lounge are already loving their new position next to Red Lime Shack and Mayfair Bakery and Patisserie.
Mayfair Bakery and Patisserie has long been a favourite in the area. With a French influence, they specialise in tarts and other sweet treats plus exceptional coffee, while Red Lime Shack is the 'must-taste' vegetarian and vegan café perfect for breakfast or brunch.
And it's not just about the shops, St Vincent Street is being re-energised with all sorts of bright, new streetscaping planned for later in the year. So keep your eyes peeled for that!
Museums join forces to bring customer discounts
We're so lucky at Port Adelaide to have a wealth of great museums in our neighbourhood.
Now as a special collaboration (facilitated by Adelaide Business Hub and supported by Renewal SA), the SA Maritime Museum, National Railway Museum and SA Aviation Museum are banding together to offer a 25% discount.
When you visit one of the museums, collect a stamp on the 'Museums in the Port' brochure, then get 25% off the entry price when you visit the second or third museum.
The three museums have launched a shared website and Facebook page and will be hosting an exciting 'Vintage Planes, Trains & Boats' event on the October long weekend.
Graduation in the park
Sixteen trainees began the Loop Path Stage II Live Training Site Program as part of the Renewal SA Works Program on 30 June 2014.
After a week in the classroom, they went straight into live on-site training which incorporated the construction of a pocket park on the north-western corner of the loop path with grass, shelter, a drinking fountain, a bin and seating.
On 20 August 2014, the tired, but no doubt proud and satisfied students enjoyed their on-site graduation ceremony.
Well done to all those involved. It's a great opportunity to build skills and knowledge for future employment and our park looks fantastic.
This program was delivered in Port Adelaide by Renewal SA in partnership with Carey Training, Skills for All and the City of Port Adelaide Enfield.
A changing Port
Renewal SA is prioritising a series of infrastructure works in line with the Port Adelaide Precinct Plan. These works will improve streetscape, restore historic buildings and activate Port Adelaide for both locals and visitors.
Look who's getting a facelift!
It's always great to see old buildings spring back to life with a loving restoration project. And that's just what's happening at the Packing Shed, part of the Hart's Mill building complex.
An impressive makeover is taking place on the Mundy Street façade and will involve reglazing the windows, re-painting and replacing the Mundy Street entrance door. Pop down to Hart's Mill and check it out for yourself. It's just another example of the invigorating and exciting changes taking place at our Port.
These upgrades are co-funded by Renewal SA and the City of Port Adelaide Enfield.
New car park for Hart's Mill precinct
Visitors and locals alike can take advantage of the Port's newest car park on the south side of Hart's Mill, which is now complete.
This new car park will not only be a convenient place to park on market days, but also while visiting the playground.
Playground fencing
Play & Go Adelaide recently gave the new Hart's Mill Playground a great review on their website. Read their review here.
We are also happy to report that plans for fencing at the playground are currently in the works. We want all playground users to feel safe and enjoy the space stress-free, so thank you for all your feedback and suggestions via social media. We will keep you updated as design plans progress.
In the meantime, keep enjoying the facilities — especially as the weather warms up.
Upcoming events at the Port
SALA at the Port
1-24 August 2014
August is all about celebrating great South Australian artistic talent with the month-long SALA (South Australian Living Artists) festival. There are plenty of great exhibitions and events happening in Port Adelaide as part of this great festival, so get on down and support the artists before its last day this Sunday.
View the City of Port Adelaide Enfield SALA Guide here.
Night Mural
23 August 2014
Experience the illumination of the iconic Hart's Mill, brought to life by animation, music and artwork by young illustrators envisioning a bold transformation.
Illuminart's launch presentation is from 6–7pm with repeat viewings afterwards. Hot food and drink will be available from Wild at Hart vendors. For more information or to book a prime viewing seat for $5, click here.
'Your Place' Short Film Workshop
31 August 2014
Our Port and City of Port Adelaide Enfield invite you to join award-winning writer, Cameron Raynes, in exploring how to make an engaging short film about a place that is special to you.
Participants can also enter Place SA's 'Take Your Place' competition with your 3-minute film about a place you love. No age or technical requisites are required for the workshop or competition.
To book your spot in the workshop, contact Jane Marr from City of Port Adelaide Enfield on [email protected] or 8405 6848.
Kidz Day Out
28 September 2014
Our Port and City of Port Adelaide Enfield will be holding a bright family fun day for all kids at Hart's Mill on September 28.
KooKy Kidz Markets will be showcasing high quality gifts, clothes and handmade products with something for every family member. The Kidz Zone promises hours of fun with live shows and free activities such as bouncy castles, arts and craft, face painting and balloon twisting. Those who'd like to take a break can take advantage of the selection of foods on offer.
The markets will be open 3 pm–7 pm, followed by a free screening of family favourite, Frozen. Bring your picnic blankets!
Wild at Hart markets
Every Sunday 9 am – 1 pm
The Hart's Mill market space is now home to the Wild at Hart fresh food markets, run by local proprietor, Steph Taylor. Featuring over 20 stalls with organic and rustic produce as well as delicious coffee, it is a market with "thoughtful produce for mindful people". The markets are open every Sunday from 9 am to 1 pm on the waterfront at Hart's Mill.
For more information on the markets or if you are interested in being a stallholder, please contact Steph on [email protected] or visit their Facebook page or website.