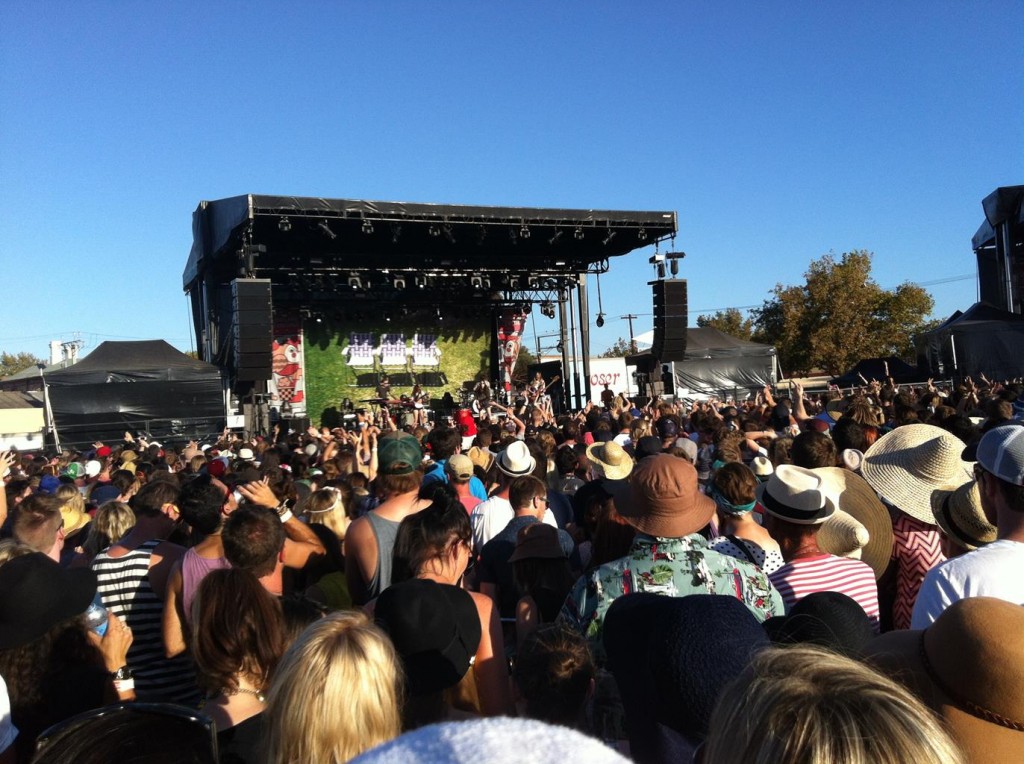 The Mill's alive with the sound of music
Last Friday night, Our Port's 157-year-old Hart's Mill provided all the atmosphere that the new home of the St Jerome's Laneway Festival deserved. The Festival has always presented leading new and influential music in unique settings and unusual surrounds. This year Port Adelaide was the hero and Hart's Mill provided a stunning centrepiece to the success of the event.
It was almost like this was Hart's Mill's 'coming out party' as it celebrated the beginning of the rejuvenation of the area.
The Hart's Mill precinct will become a cultural and commercial hub for Port Adelaide with space for markets, live music and events.
The success of this festival, the unique location and the way the community became part of the event will help to put Our Port on the map. Adelaide, take notice…
Click here for more information on Renewal SA's plans for the Hart's Mill precinct.
"What a fantastic experience! The first festival that I have attended and it was amazing. It was so wonderful to see so many people making the Port come to life. An experience to be remembered." – Brooke Clark, 1 of 5 winners of a double pass, thanks to a Renewal SA competition held at Port Day.
The Loop Path Live Training site
Renewal SA's Works Program proudly supports training and employment initiatives for local people.
The Loop Path Live Training Site Program is being delivered in Port Adelaide by Renewal SA in partnership with Carey Training, Skills for All and the City of Port Adelaide Enfield.
This program will see two Certificate II in Civil Construction qualifications provided in two separate programs during 2014.
Specifically targeting people in Port Adelaide and the western suburbs, this program will:
deliver plant tickets including skid steer, excavator, roller, white card and work zone traffic management
provide hands-on experience on a construction site to develop new skills to improve future job opportunities
provide guaranteed work placements for those participants who meet the selection criteria.
The first program will commence on Monday, 3 March 2014 and run full time for 6 weeks.
For more information and to download the flyer, click here.
A fresh approach to urban renewal within Port Adelaide
The Port Adelaide town centre and waterfront presents a significant opportunity to evolve from a historic shipping and industrial harbour to a contemporary mixed use urban area with a sustainable local economy and regional activity centre.
Renewal SA has developed a Precinct Plan to provide a long-term framework to guide and prioritise renewal activities over the next 20 years. The Precinct Plan lets everyone know what we are planning to achieve at the Port and how we are planning to achieve it.
The Precinct Plan will be delivered through collaboration between state and local government, the private sector and the community to achieve a shared set of outcomes for the Port Adelaide Regional Centre.
Together with the City of Port Adelaide Enfield, Renewal SA is already coordinating a range of initiatives to activate the inner Port area for both locals and visitors. For more information on these initiatives, visit our Activation page.
Ongoing engagement with the community will be vital in achieving the outcomes of the Precinct Plan. Many of the actions required to implement the Precinct Plan require formal consultation as part of the delivery process. For example, the Precinct Plan is now being used to inform amendments to the Port Adelaide Enfield Development Plan and introduce a new policy framework and suitable instruments of development control to appropriately guide and facilitate future economic investment and development in Port Adelaide. This Development Plan Amendment (DPA) is being prepared by the Minister for Planning and is currently on consultation from Wednesday, 22 January 2014 to Tuesday, 18 March 2014.
For more information and to view the Development Plan Amendment, please visit www.sa.gov.au/planning/ministerialdpas
A public meeting about the DPA will be held at 7.00pm on Tuesday, 8 April at the Krystal Function Centre, corner of Dale and Church Streets, Port Adelaide.
Click here to view the Port Adelaide Precinct Plan.
Birkenhead Bridge and Loop Path Update
Works to the shared use loop path are continuing, with works to the Birkenhead Bridge currently underway. Some delays have been experienced in preparing the bridge to open for tall ships and vessels, however it is expected to be functioning again as an opening bridge by the end of March.
The current bridge works will change the configuration of traffic flow on the bridge to one lane each way for vehicle traffic with a one-metre median in the centre to improve vehicle traffic safety. These works are expected to be completed by April 2014. Please click here for more information.
The western side of the loop path is open for use, so send us your photos on Facebook or Instagram as you enjoy the increased access to the Inner Harbour. Keep an eye out for the 'pop-up' parks along the route as the Renewal SA Works Live Training Sites start, providing training for local people.
Hart's Mill Precinct Landscaping
The $2.2 million redevelopment around Hart's Mill is really beginning to take shape and is well on track to be completed in early April 2014. Join us on Facebook and look out for an invitation to an opening event once the weather cools down around Autumn.
Renewal SA is currently reviewing Expressions of Interest from fresh food market operators who will work with us to really make the place come alive. Look for announcements at the end of February.
Port Adelaide Community Garden
Port Adelaide's new Community Garden has a temporary home on the corner of Divett and Todd Streets. For a small fee, local budding gardeners are welcome to join in the planting, watering, chatting and growing of a strong Port social group.
Jointly funded by Renewal SA and the City of Port Adelaide Enfield and supported by many local businesses, the garden will soon become a blooming great addition to life at Our Port.
Contact Ian Winter on 0418 829 033 for information.
Re-purposing the Past
As part of a previous comprehensive cultural mapping exercise, Renewal SA identified a number of items that are significant or have meaning for Our Port.
Having found and stored these iconic salvage materials, they will continue to be retained and reworked where possible into future developments. Take a look around Hart's Mill or the Dale Street upgrade and you'll find some recycled Port timber. Other items are ear-marked for public art around the Loop Path. See if you can spot them as the area develops.
In the meantime, keep your eye out for key pieces of Port Adelaide's past and let us know about them. You might see them again some day, rejuvenated and repurposed in an unexpected way.
Upcoming events at the Port
The Port Rocks
23 February 2014
Get ready for The Port Rocks on Sunday, 23 February 2014 at Our Port!
This Adelaide Fringe Festival event showcases the best local rockabilly bands and classic car displays. Featuring East Texas, The Satellites, Lady Voodoo, Dead Lucky, The Rustlers and lots more.
This year, the festival will take place on Lighthouse Square and in heritage pubs in the heart of the Port. Renewal SA and the City of Port Adelaide Enfield are proud to be supporting this unique event.
Check out their Facebook page and stay tuned for more information.
Augmented Port
March 2014
Unexpected Port, a series of arts projects, will start off with a collaboration that spans art, architecture and technology.
Augmented Port by 3rd Space will invite you to experience virtual architecture through your mobile device. Keep an eye on our Facebook page for more information
Rupture
1 March 2014
Twine Projects is set to construct a large-scale slingshot in Dock 1, Port Adelaide and launch paint-filled latex balloons against a large canvas stretched across a shipping container.
Join us Saturday 1 March, 11am – 3pm as we create history and create art, together in Port Adelaide. There will be food vans and coffee carts on the day to keep everyone fuelled up!
The Unexpected Port initiative is a partnership between the state government's Arts SA, Renewal SA and the City of Port Adelaide Enfield.
Click here for more information about Rupture and how the paint splattered canvas will be exhibited.
Pop-Up Pocket
2 March 2014
Come sample The Fringe at Lighthouse Square, Sunday 2 March. Performers from The Fringe will appear in a family-friendly program of snippets from their individual shows. Guaranteed to be a pocket full of fun.
Keep an eye on Facebook for more information and show times closer to the event. Hosted by Renewal SA and the City of Port Adelaide Enfield Council.
Dolphin Day
16 March 2014
Join us from 10 am to 4 pm, at Lighthouse Square to learn more about the Port River Dolphins, their habitat and how you can get involved in their conservation and care.
FREE activities include:
Free tickets for dolphin cruise
Life in the Sanctuary photographic exhibition at the Black Diamond Gallery
Dolphin trail, face painting and kids activities
Interactive theatre on the main stage by the Adelaide University Theatre Guild
Scientific talks at the Port Adelaide Town Hall by noted scholars
Dolphin Day is proudly brought to you by the Department of Environment, Water and Natural Resources in collaboration with the Adelaide & Mount Lofty Ranges Natural Resources Management Board, Renewal SA and City of Port Adelaide Enfield, local NGOs, universities and other state government agencies.
For more information on the day, visit www.environment.sa.gov.au/dolphinday