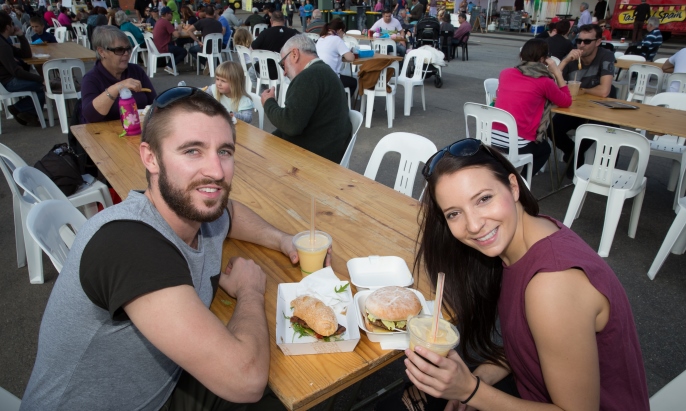 People have an appetite for Our Port
Around 4,000 people came to see what's cookin' at the Port Adelaide Foodie's Weekend, 10 and 11 May… and we didn't let them go hungry.
Fork on the Road proved to be a delicious entrée to the weekend while Illuminart helped us celebrate the $2.2 million redevelopment of the area by bringing the mill buildings to life with an architectural projection show. Everyone found something to their taste with food and drinks from 30 vendor stalls and a fantastic menu of entertainment to keep people in a festival mood.
Kids took the opportunity to put our new playground to the test. And all reports showed it passed with flying colours.
Sunday gave everyone a taste of fresh food markets, Our Port-style with the first Wild at Hart markets on the waterfront. Twelve vendors sold fresh produce, food and drinks to a backdrop of lively entertainment that included everything from belly dancers to drumming groups. Celebrity cook, Callum Hann drew a crowd, filling the air with appetising smells as he created delicacies with local produce from the surrounding stalls.
Our Port proved to be a gracious host and everyone agreed the Hart's Mill Precinct is becoming a delicious place to visit.
Be sure to make the weekly Wild at Hart fresh food markets part of your diet.
The First Time 'Round the Loop Path
On Sunday 18 May 2014, the new Inner Harbour Loop Path was opened for the 'First Time 'Round'.
The Sunday morning event saw people experiencing the Inner Harbour in new ways thanks to the new loop path, funded by Renewal SA and the City of Port Adelaide Enfield.
Visitors and locals alike enjoyed dolphin walking tours, running for beginners, a guided walking tour with Renewal SA Project Director, Andrew Crust as well as Nordic walking!
With some final works being completed on the Jervois Bridge in the coming weeks, we encourage you to get down and enjoy the path. The new smooth surface and picturesque surrounds are sure to motivate you to keep fit during these winter months.
Renewal SA Works Program Live Training Site
Renewal SA's Works Program proudly supports training and employment initiatives for local people.
The Loop Path Stage II Live Training Site Program is being delivered in Port Adelaide in partnership with Carey Training, Skills for All and the City of Port Adelaide Enfield.
Specifically targeting people in Port Adelaide and the western suburbs, this program will:
deliver plant tickets, including skid steer, excavator and white card
provide hands-on experience on a construction site to develop new skills to improve future job opportunities
deliver a Certificate II in Civil Construction RII20712.
The program will commence on Monday 30 June 2014, and run full-time for eight weeks.
For more information and to download the flyer, click here.
 Port River dolphins in new population study
A new study is being undertaken to better understand the population size and behaviours of the Upper Port River dolphins.
The year-long study will collect baseline data on the number of dolphins frequenting the Port River and report on their behaviours as well as other aspects of the habitat that might influence their well-being.
The commissioned study is jointly funded by Renewal SA and the City of Port Adelaide Enfield and is being led by Dr Mike Bossley, Science and Education Manager at the Whale & Dolphin Conservation (WDC) who says the Port River dolphins are a precious asset of international significance.
"The ongoing presence of a small subset of these dolphins in the Inner Port area is already a tourist drawcard and it is important to ensure they continue to thrive in the area," said Dr Bossley.
Together with the City of Port Adelaide Enfield, Renewal SA is prioritising a series of infrastructure works as a result of feedback from the local community. These works will increase public open space areas, restore historic buildings and activate Port Adelaide for both locals and visitors.
A changing Port
Flour & Packing Shed Building Works
Repairs and maintenance are currently underway on the Flour and Packing Shed buildings, which are located next to Hart's Mill on Mundy Street. These works will ensure the buildings are in good condition when potential uses are identified in the future.
Renewal SA understands the importance of ensuring that any works done are in keeping with the history of these heritage buildings and has engaged a heritage adviser before commencing these works.
Customs House Facade Works Complete
Restoration works on the 135-year-old Customs House building facade are now complete. The works, jointly funded by Renewal SA and the building's owner, included the removal of external air-conditioning units, reinstatement of window panes and a coat of paint to help bring out the natural beauty of the stone on this iconic Port Adelaide building.
Growing community spirit
Supported by some fantastic businesses and driven by a group of energetic locals, the Port Adelaide Community Garden is really starting to take shape. Garden beds are being moved into place, so get in now to secure your plot.
For only $30, you can be part of this great local initiative. The benefits include access to veggie swap days, invitations to pancake and scone days, access to the club's organic herb garden and more! The first 30 people to become members will also get a guaranteed 12-month lease for a garden plot (additional plot lease fee applies).
For more information, check out the garden on Facebook.
Upcoming events at the Port
Rastelli Circus
13 July 2014
As part of the Surprising Sundays series of events, Rastelli Pop-Up Circus is coming to Port Adelaide!
This free 15-minute circus show will suit the whole family, so head to the Hart's Mill Precinct, located at Mundy Street in Port Adelaide on Sunday 13 July between 11.00 am and 1.30 pm.
Augmented Port
June 2014
Augmented Port is an inter-disciplinary and collaborative project spanning art, architecture and technology. Located at 293 St Vincent Street, Port Adelaide (near Dock One) until 30 June, you are able to experience playful, architectural re-imaginings of empty local spaces through your mobile device.
The Unexpected Port initiative is a partnership between Arts SA, Renewal SA and the City of Port Adelaide Enfield.
Out of Place
June 2014
Out of Place is a series of photographic installations by Danica Gacesa McLean in collaboration with Deb Jones. The images are based on the things you can't see, the things you might see and the things that are actually there but are out of place.
Printed maps for self-guided tours are available here for download, or from the Port Adelaide tourist information centre.
SALA at the Port Street Party
1 August 2014
Our Port will be hosting a community celebration for the opening of the 2014 SALA Festival in Port Adelaide on Friday, 1 August 2014. The festival will kick off with a street party on St Vincent Street with six local businesses and gallery spaces, representing 15 local artists working together to present a night of celebration, art, music and collaboration.
Pop the date in your diary and watch this space for more info soon.
Wild at Hart markets
Every Sunday 9 am – 1 pm
The Hart's Mill market space is now home to the Wild at Hart fresh food markets, run by local proprietor, Steph Taylor. Featuring around 20 local stalls with organic and rustic produce as well as delicious coffee, it is a market with "thoughtful produce for mindful people". The markets are open every Sunday from 9am to 1pm on the waterfront at Hart's Mill.
For more information on the markets or if you are interested in being a stallholder, please contact Steph on [email protected] or visit their Facebook Page.