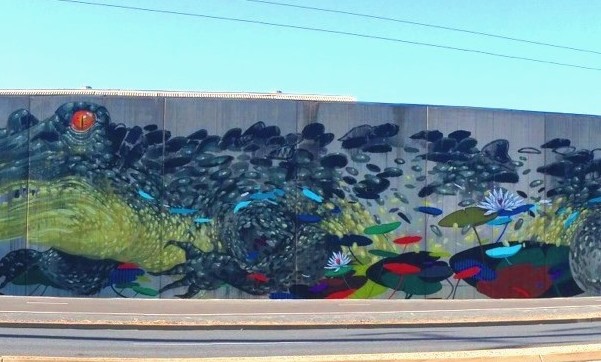 Paintwalling
Give a couple of street artists three days and 210 square metres of blank wall space and look what they can do! Internationally renowned street artist Hitnes (who lives in Rome) joined forces with local artist Vans the Omega to create their mighty mural masterpiece on Semaphore Road. If you're looking for adventure, or you just like art, head along the Loop Path past Jenkins Street and meet this feisty crocodile face-to-face.
Mural commissioned by City of Port Adelaide Enfield with support from Renewal SA.
There will be more public art popping up at the Port over the next few months with FELTmaps, an ephemeral public art project, taking over Port Adelaide as part of Unexpected Port from 28 March – 27 April 2014, see article below for more details.
If you have any creative ideas or submissions for other areas in our Port that might need brightening, let us know at [email protected].
Precinct Taking Shape
Hart's Mill precinct has been a hive of activity so far this year, playing host to over 6,000 people at the St Jerome's Laneway Festival in February and now undergoing a major $2.2 million landscaping facelift, with space for markets, live music and events.
With the majority of the underground preparation works now complete, things are starting to take shape above ground. With construction crews starting on the custom recycled-timber seating and shelter, utilising salvaged timber from the Inner Harbour, and the new playground equipment arriving this week ready to be put together like a giant jigsaw puzzle, it won't be long before this important precinct will again be open for the public to enjoy.
Works are expected to be completed at the beginning of May, ready for an exciting launch weekend, where you will be able to experience a great taste of what the revitalised precinct has to offer. Keep an eye on our social media for more details soon.
Changing faces on St Vincent Street
If it's good news for small business, it's good news for all of us at the Port, with Renew Adelaide tenancies around St Vincent Street proving to be great enterprise launching pads. We all love to see a local shop do well. Ned from 'Remake/Remodel' has been so flat out with large scale commissions that he's decided to move out to a new workshop down at St Vincent Street East to spend more time actually making things.
'Everything Coconut' was so successful under the Renew Adelaide scheme, funded by Our Port, it has been able to move on and secure a commercial lease.
Next to move will be 'My Modern Nest' to allow a new commercial tenant to move in, while 'Lilly and Tulip' will also be moving on from this fantastic pop-up project.
Whilst we are sad to see these great shops leave the strip, it opens up opportunities for new businesses to move in and try out their retail ideas in a short-term, low-risk environment.
Renew Adelaide, on behalf of Renewal SA and City of Port Adelaide Enfield, is currently working with interested entrepreneurs and building owners to fill these vacant spaces and maintain the momentum and visitation building along this great local street.
St Vincent Street is certainly a changing place — it's well worth popping down for a look.
A changing Port
Together with the City of Port Adelaide Enfield, Renewal SA is prioritising a series of infrastructure works as a result of feedback from the local community. These works will increase public open space areas, restore historic buildings and activate Port Adelaide for both locals and visitors.
Customs House Upgrade
Restoration works are now significantly underway on Customs House, with the removal of air-conditioning units and the resintatement of window panes helping to restore this heritage building to its former glory.
The team of workers will move around the building clockwise from North Parade reinstating the window panes, then a painter will follow their progress with a fresh coat of paint to the exterior of the building to finish up.
Our Port is co-contributing to the works together with the building owner.
Pop-Up Park in the Works
If you're out and about on the western side of the Loop Path this week, you'll probably catch the 13 local participants at the Renewal SA Works Live Training Site hard at work on a new pop-up park. It will take them 5 weeks to complete and will include a shade structure and ground landscaping. So by mid-April, you will be able to stop here for a rest or bring a picnic and maybe enjoy some dolphin-spotting.
Bridge Works and Loop Path Update
Works to the shared use loop path are continuing, with works to the Birkenhead Bridge currently underway and the Jervois Bridge works to start soon.
The current bridge works will change the configuration of traffic flow on both bridges to one lane each way for vehicle traffic, with the shared use loop path alongside also with one lane each way.
These works are expected to be completed by May 2014. Please click here for more information and a map detailing the works.
Before the Birkenhead Bridge can be completed, work is required to re-balance the cantilever weights used to open the bridge for water traffic. This is a delicate process and can take up to five days to complete. The bridge will need to be closed to all vehicle, bike and pedestrian traffic while this is undertaken. This work is expected to be undertaken early April, so keep an eye on our social media for details as soon as we know an exact start date. Traffic detours will be in place for the duration of the re-balance.
Promenade Progress
There's always so much happening at the wharf, but at the moment it's the construction of a new bus bay to the side of Lighthouse Square taking the spotlight. This will create a bit more space for larger tourist buses to be able to load and unload more easily and safely.
Talking of safety, there are more safety ladders as well as life buoys being installed along the promenade. These life buoys will be fitted with an automatic light and noise alarm. If you see or hear the alarm, please check if there is an emergency and call 000.
Promenade works are funded by Renewal SA.
Upcoming events at the Port
The FUTURE of ART – exhibition
8-21 March 2014
'The Future Of Art' showcases artistic pieces from the next generation of Port Adelaide artists, aged nine to sixteen.
The exhibition is now open at Forge Creative Warehouse, 168 St Vincent Street, Port Adelaide and is the culmination of a series of art workshops, hosted by Renewal SA and City of Port Adelaide Enfield for Our Port.
FELTmaps
28 March – 27 April 2014
FELTmaps is an ephemeral public art project responding to the small, the large, the public and the hidden, in central Port Adelaide.
Join us on opening night, 28 March at 6pm or for a free guided tour every Saturday at 1pm throughout the exhibition.
Between 28 March and 27 April, site-specific contemporary art installations will be found in vast open spaces, small shop front windows, vacant lots, the water, unexpected hidey-holes and laneways. Click here for more information and for important dates during the exhibition.
The Unexpected Port initiative is a partnership between Arts SA, Renewal SA and the City of Port Adelaide Enfield.
The Special One
Weekends, 29 March-13 April 2014
The Special One plays with what is real and really unreal, through an intimate 6-minute performance, for audiences of two at a time. Step inside the viewing corridor and see an altered view of reality, through a series of windows.
Performances will be held Saturdays and Sundays, 11.30am – 12.30pm at the Port Mall, 178 St Vincent Street, Port Adelaide.
The Unexpected Port initiative is a partnership between Arts SA, Renewal SA and the City of Port Adelaide Enfield.
Chalk in the Road
6 April 2014
Here's your chance to get your fingers dusty and draw all over Our Port. As part of our Surprising Sundays Program Our Port is hosting Chalk in the Road — a Street Art Chalk Workshop at Lighthouse Square on Sunday 6 April from 10am to 4pm.
For the past 23 years, Melbourne artist Ulla has travelled the world many times over using the streets as her canvas. At Chalk in the Road she will run a casual, drop-in workshop for families and children to explore the colourful world of chalk. Get the date in your diary now, then come along and join in the fun.
Chalk in the Road is proudly brought to you by Renewal SA and City of Port Adelaide Enfield.
Mangrove
Friday to Sunday, 4 – 20 April 2014
The first three weeks of April, Gallery Yampu will host Mangrove, an outdoor installation art project as part of Unexpected Port.
The venue will be open from sunset to 10pm each night, so bring a picnic and watch the floating illuminated pontoons on the Port River and projected art from the Gallery Yampu verandah.
The Unexpected Port initiative is a partnership between Arts SA, Renewal SA and the City of Port Adelaide Enfield.