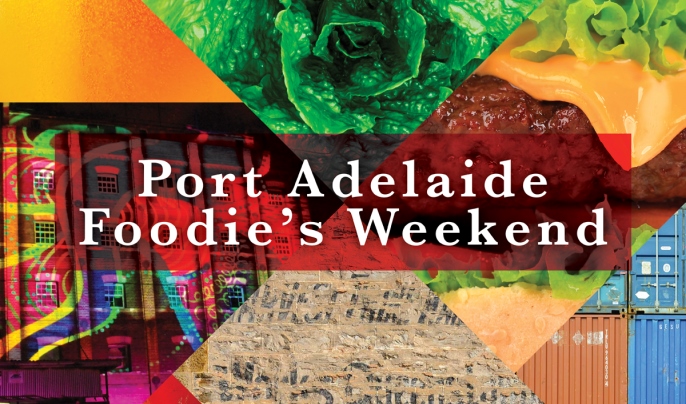 Join us 10 & 11 May  for a foodie weekend to celebrate the first Wild at Hart, fresh produce market at Hart's Mill.
Renewal SA is celebrating the opening of new farmer's and fresh food market, Wild at Hart, on the waterfront at Hart's Mill with a Foodie's Weekend!
You can enjoy tasty treats from Fork on the Road food trucks and load up with supplies from the new fresh food market, learn from the best at a cooking demonstration from former MasterChef contestant and Director of Sprout Cooking School, Callum Hann, enjoy 'Hart's Mill reanimated', an architectural projection show by Illuminart, take in live music and much more!
Renewal SA partners with Adelaide Business Hub
Partnership and progress continues in the Port as an integral part of the activation program. The Adelaide Business Hub has partnered with Renewal SA to ensure that effective economic development initiatives are in place to support local businesses in Port Adelaide.
The Adelaide Business Hub (ABH) is taking the lead on economic development by introducing a new approach to attract and support growing businesses to the Port. Building on the work of the Hub's Todd Street Business Incubator, ABH will be seeking local partnerships with property owners and their agents, to accelerate the take up of vacant office space in the town centre.
The Adelaide Business Hub is also working with the Rail, Aviation and Maritime
Museums and creating a complementary local Tourism Network with support from the Port Adelaide Enfield Chamber of Commerce and Council. This integrated approach to creating new and improving existing tourism products will aim to have positive flow on effects for all businesses in the Port.
Renewal SA will also work with the Adelaide Business Hub and the City of Adelaide Preservation Trust to jointly prepare a business case to determine a more permanent location for the City of Adelaide, currently moored at Dock One.
Lyn Hay, General Manager of the ABH welcomes the partnership with Renewal SA and says, "This partnership will allow us to produce real outcomes with tangible benefits and to deliver results for the local business community."
For more information on how the ABH can help you, please visit adelaidebusinesshub.com.au.
Poppy and the Wallflowers
Saturday 12 April was the opening of the Port's newest shop, florist and stylist, Poppy and The Wallflowers.
It is great to see beautiful and unique floral arrangements brightening up people's days and St Vincent Street.
As part of the Renew Adelaide scheme, supported by Renewal SA, this new shop is activating Port Adelaide and giving entrepreneur, Andrea, a great platform to build her business.
Poppy and the Wallflowers is open Friday to Sunday, 10 am – 4 pm, but will soon be extending those hours to Tuesday to Saturday for all your floral needs. Visit them on Facebook for more information.
Your Port, Your Thoughts
Every day we are working on new and exciting things to bring new life to Our Port.
A few weeks ago, we sent an email inviting you to take part in a simple and confidential survey where we could find out what's going on in your life and how you feel about things.
We have had a great response and will be closing the survey on 9 May 2014, so don't miss out.
Rest assured, the information will not go any further. We won't sell it or pass it on. It's just to help us plan a better life for Our Port.
Click here to start the survey.
As always, you can get in touch with the project team and send us your thoughts or questions by emailing us at [email protected].
A changing Port
Together with the City of Port Adelaide Enfield, Renewal SA is prioritising a series of infrastructure works as a result of feedback from the local community. These works will increase public open space areas, restore historic buildings and activate Port Adelaide for both locals and visitors.
Community Garden Update
The construction of the Port Adelaide Community Garden is going strong, with fencing complete, thanks to our two friendly tradies above, and works to the Radio Shack are well underway. This building is undergoing refurbishment as it becomes a central hub for the garden community. Keep an eye on our social media for regular updates on the progress.
The Community Garden will be having an open day, Saturday 17 May from 10 am to 2 pm. The committee would love any potential members to come along and meet everyone and find out more about the vision for the garden.
Email the committee here for more information.
Customs House Works Update
Works to restore Customs House are going well. You may have noticed that a portion of the building along North Parade has recently been painted. The completion of this section shows what a difference can be achieved through a more subtle paint scheme, giving it a more natural look. The paint colour has been chosen to tie in with the tint of the stonework and was decided upon in consultation with council's heritage advisers.
Interestingly, when Customs House was built, it was paint-free. The paint was only added later to refresh the stonework.
Our Port is co-contributing to the works together with the building owner.
Birkenhead & Jervois Bridge Works
After successful testing of the cantilever mechanisms finished ahead of schedule, the Birkenhead Bridge is on track to be complete early May, as long as the weather holds out.
The right-hand turn from the bridge into the carpark, which is adjacent to the British Hotel, is already open though, so why not drop in over the weekend for a meal?
Works to the Jervois Bridge are also going smoothly with a concrete pour planned for next week, pending good weather.
Upcoming events at the Port
27 North Parade Workshops
Weekends, 3 May – 29 June 2014
Our Port is supporting a range of free art and craft workshops throughout May and June. Come along to any or all of the workshops, ranging from mixed media art workshops, to tarot reading, to the previously booked-out children's art workshops.
Workshops will all be taking place at 27 North Parade, Port Adelaide. Click here for the schedule of workshops.
Places are limited, so contact Mandi Glynn-Jones on 0449 639 522 or email to book your place.
Point A Parkour Demonstration
4 May 2014
Embrace 'movement culture' at Our Port with Point A Parkour and the Surprising Sundays program.
From 11am to 4pm on Sunday 4 May 2014, local Adelaide group Point A will set up their scaffolding in Lighthouse Square and demonstrate how parkour can be a great, fun way to get active and embrace movement in your life. Click here to see a video of Point A in action.
Surprising Sundays monthly events are proudly brought to you by Renewal SA and City of Port Adelaide Enfield.
Augmented Port
10 May 2014
Augmented Port is an inter-disciplinary and collaborative project spanning art, architecture and technology. Located at 293 St Vincent Street, Port Adelaide (near Dock One) from Monday 5 May to Friday 30 May, you will be able to experience playful, architectural re-imaginings of empty local spaces through your mobile device.
Don't miss the artists' forum and tour to be held on Saturday 10 May from 1 pm.
The Unexpected Port initiative is a partnership between Arts SA, Renewal SA and the City of Port Adelaide Enfield.
Out of Place
31 May 2014
'Out of Place' is a series of photographic installations by Danica Gasea McLean in collaboration with Deb Jones. The images are based on the things you can't see, the things you might see and the things that are actually there but are out of place.
The project will be launched at 1pm, Saturday 31 May. Meet Deb and Danica at the phone booth, under the railway line on Commercial Road, Port Adelaide for a tour.
Maps will be available at the launch with the location of all installations. If you can't make the launch, printed maps will also be available at the Port Adelaide tourist information centre for self-guided tours.