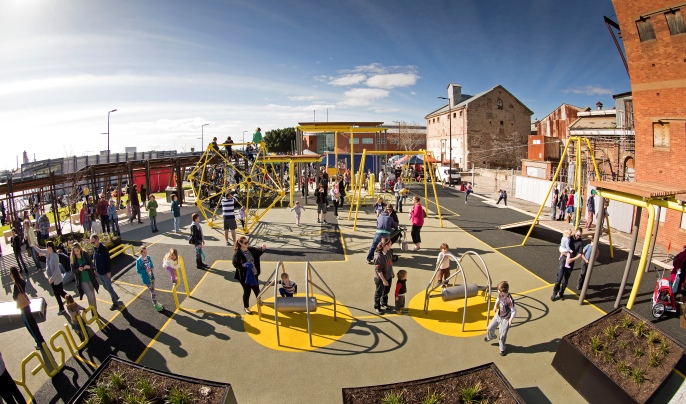 New round of activity taking shape in Port Adelaide
The next round of community and economic development initiatives are set to commence in Port Adelaide with a continued focus on infrastructure works and innovative partnerships and events that are unique to the Port.
Over the last two years, the Port Adelaide Renewal Project (PARP) has successfully delivered phase one of a broad-based program that includes infrastructure works to improve amenity and a range of events, exhibitions and festivals that have significantly increased visitation to the Port.
Renewal SA Chief Executive, John Hanlon, said the success of the program has brought renewed energy to the Port through its bold vision and innovative partnerships.
"In the past year, we have seen growing activity and engagement in the Port through initiatives such as the Wild at Hart markets, upgrades to the Hart's Mill Precinct, the Inner Harbour Loop Path and building façade upgrades."
"The next round of this multi-faceted program will continue to work towards increasing the appeal of the region for the local community and visitors alike by attracting investment and new business to the Port," he said.
"By fostering our existing partnerships with Renew Adelaide and the Adelaide Business Hub, Renewal SA will continue to support local business initiatives to stimulate and drive economic development in the region through enterprise and innovation," said Mr Hanlon.
Proposed infrastructure works include building repairs and upgrades to Commercial Road to provide an entrance statement to Port Adelaide, including streetscaping and upgrades to the area around the train station. Resurfacing works on Commercial Road are now underway and are being funded by DPTI.
The $1.39 million activation program is part of Renewal SA's vision to create a 'living port' that celebrates a maritime past whilst embracing the future. Ensuring there are more people living, working, investing and spending time in the Port.
The Annex at Hart's Mill
Renewal SA and Renew Adelaide are excited to announce that Expressions of Interest are now open for The Annex — the glass building located on the water at Hart's Mill.
The space boasts a large open plan area with kitchen/café facilities, outdoor decks and a 270-degree view of the harbour and would ideally suit a café/event-space, with priority given to applications that demonstrate a unique, creative, interesting and well considered concept.
We look forward to providing a short-term incubation space for emerging entrepreneurs in this exciting location.
If you are interested in submitting an application for this space, then we encourage you to inspect the property. An inspection will take place Friday 7 November from 3 pm–4 pm.
Applications close 10 November.
Should you have any questions relating to your application, please email [email protected] and be sure to include 'The Annex at Hart's Mill Call Out' in your subject heading.
Please note: It is essential that you know how Renew Adelaide properties work, so please make sure you read What Renew Can Do For You prior to completing your application.
For information on this and other projects in Port Adelaide, please visit www.renewadelaide.com.au.
New partnership kicking career goals with Port Adelaide Football Club
Renewal SA has teamed up with Maxima, Port Adelaide Football Club and Anglicare SA to expand the hugely successful Aboriginal Power Cup Program to help Aboriginal high school graduates into jobs.
The new partnership is aiming to help 40 students transition into full-time employment in 2015 through traineeships, apprenticeships and other employment pathways provided by Port Adelaide Football Club corporate partners.
The new school to work project will bolster the existing Aboriginal Power Cup program which has supported almost 400 Aboriginal students across 35 schools, improving attendance and lifting Year 12 completion rates for Aboriginal students. The program has grown significantly since it began in 2008.
Renewal SA Chief Executive, John Hanlon, said the new initiative will not only benefit participants but the wider Port Adelaide community.
"This partnership enables the Aboriginal Power Cup to expand by providing training and employment opportunities that will benefit the local community, with at least 10 job opportunities provided in and around Port Adelaide," Mr Hanlon said.
"The program will provide traineeships, apprenticeships and employment pathways for young Aboriginal students who have completed Year 12. It will also offer support, mentoring and cultural awareness for employers when employing Indigenous young people.
"The Aboriginal Power Cup school to work project is a great example of how urban renewal can benefit the communities we work in."
Missions accomplished
The past few months have seen the completion of a number of Works Programs held in Our Port. These include two programs for a Certificate II in Civil Construction and a nannySA pre-employment program.
We're happy to report some great outcomes as a result. Not only are Pocket Parks #1 and #2 now complete and looking fabulous, but several students have gained employment from the training and hands-on experience provided by the programs.
One of the students, John Fox, was keen to get a job in Traffic Management and was thrilled to score a casual role with Altus Traffic working 25 hours per week. John thoroughly enjoyed the Works Program. He says it "was extremely helpful in giving me the skills required for the job, as well as assisting me in doing other projects around the house."
Other students enjoying new jobs include Mohammad, who has commenced a role in Sydney as a data analyst and Daniel who began full-time work in Machine Maintenance at Winfield. Indigenous student, Robert, is in the planning stages of starting up his own business, while Tyson is on stand-by for more contract work at the Port when things get busier.
Similar success stories have come out of the nannySA pre-employment program with four out of the seven participants taking up positions with nannySA.
Stay tuned for more training and employment programs in 2015.
A changing Port
Renewal SA is prioritising a series of infrastructure works in line with the Port Adelaide Precinct Plan. These works will improve streetscapes, restore historic buildings and activate Port Adelaide for both locals and visitors.
First steps
Soon you will be able to learn a whole lot more about the Inner Harbour as you follow the new cultural walking trail and wayfinding signage along the Loop Path. With key lookout points along the way, the path will highlight some of the areas of local significance through stories and images. Look out for the repurposed timber from the wharf that's being used in elements of the signage.
A cultural mapping project was used as background to provide informative content for the trail and you can read the full study online here.
Hart's Mill landscaping awards
Renewal SA have received a Highly Commended Award in the 2014 Kidsafe National Playspace Design Awards for the Hart's Mill Playground and Landscaping. It is a great achievement with a number of applications from all over Australia.
And the recognition doesn't end there. Together with the City of Port Adelaide Enfield, Renewal SA made the shortlist for a Mainstreet SA award for the Hart's Mill landscaping project in the category of 'Public Space and Streetscape Design'. This award acknowledges how an in-between public space can be enriched to create a design that is truly a 'centre'. It's great to have been shortlisted because we think that Hart's Mill is already very much a centre for the community.
We have also received nominations for two other awards for the Hart's Mill landscaping so fingers crossed, we'll let you know more great results soon.
A commercial makeover
Renewal SA, in partnership with the City of Port Adelaide Enfield and local business owners, is helping to improve the visual street appeal of the northern end of Commercial Road. Renewal SA is offering financial support for repairs and maintenance of building façades along this important entryway between St Vincent Street and Dale Street. By the end of summer, you should notice a real difference to the streetscape of Commercial Road.
Upcoming events at the Port
Ship Shape
27 October – 6 December 2014
From October to December, Our Port will be offering free fitness activities as part of our Ship Shape program!
From Yoga to Dragon Boating, there is an activity to suit everyone at any level of fitness.
Click here for the full program of activities.
The Vitalstatistix Community Fair
9 November 2014
Local theatre company Vitalstatistix will throw open their doors for a day full of stalls, food, drink, music, tours of Waterside Workers Hall, local performers, participatory experiences and general merriment to celebrate 30 years in Port Adelaide.
Click here for the full details of their 30th birthday season.
What's Going On At 27 North Parade
Sundays, 9 November – 14 December 2014
Our Port is supporting a range of free art and craft workshops Sunday afternoons throughout November and December. Come along to any or all of the workshops, ranging from abstract painting or drawing to funny hat making workshops.
Feast Festival
15-30 November 2014
Feast Festival is SA's largest community arts and cultural festival for the lesbian and gay community in Adelaide.
Check out the full guide here and make sure you visit this amazing international event.
Gear Up Girl
23 November 2014
Adelaide's biggest bike ride for women, Gear Up Girl, is happening again on Sunday 23 November. There are three different ride options which begin and end at Elder Park. All ages and all levels of experience are welcome to join in the fun. Why not join the 40 kilometre Beach Ride, following the new Greenway corridor from Bowden to Port Adelaide? It's a safe mix of quiet roads and shared use paths.
You can register now at bikesa.asn.au/gearupgirl  – a small fee applies, but children under six are free.
Moving Music
10 January 2014
Our Port and The Make Ready Lab are proud to present Moving Music 2015 outside of the city for the first time. We will be train tracking the audience to Port Adelaide and leading them on a walking safari that will feature a smorgasbord of arts in urban spaces for curious humans.
Watch the Our Port Facebook Page for more details closer to the event.
St Jerome's Laneway Festival
6 February 2015
Against the sparkling backdrop of the Port River waterfront, the St Jerome's Laneway Festival will return to the historic site of Hart's Mill in 2015. With a fresh new line up, plenty of grass, shade and delicious food, it will be an incredible live music experience. For the first time ever, Adelaide will welcome those aged 16 and upwards to the event.