It's easy to take for granted the history all around us. To walk past old buildings oblivious to the life they once knew. You need a kind of special lens to see it but when you do, it's like a magical experience — probably the closest thing to time travel you'll ever know.
So if you're up for it, climb aboard your imaginary horse and cart, take a trip around the streets of Port Adelaide and see things in a new (but old) way.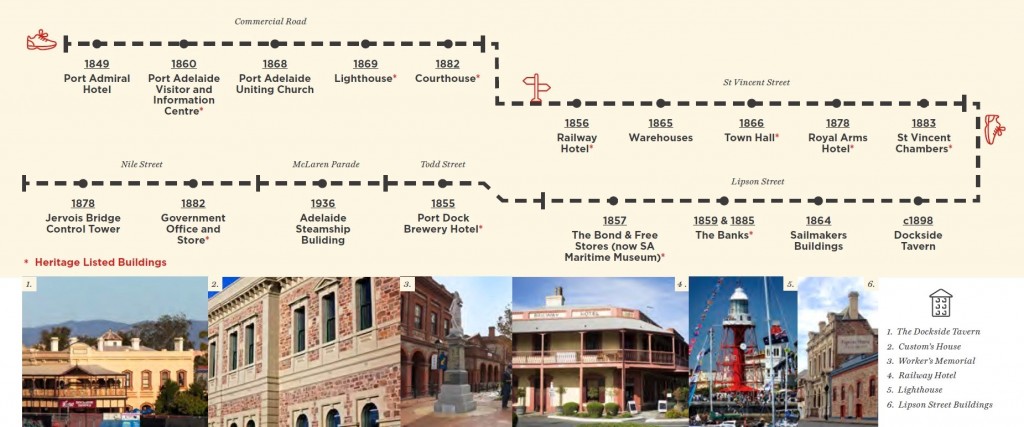 The Maritime Museum is a good place to start to get you in the mood and soak up the atmosphere of a by-gone era, but there are heaps of treasures tucked away in other streets that show glimpses of life in a bustling port during Victorian days. Look out for the 'soundposts' dotted around where you can press a button to hear the stories.
Almost every aspect of life is represented here with warehouses, shops, cottages, churches, theatres and halls over 150 years old. Some restored, some converted to cafés or galleries, but all retaining their character. It's a special thing that these buildings remain.
How about a pub crawl? There are plenty of historic hotels in the area. Some places will still pour you a beer, others you might have to settle for admiring the architecture. Large timber floors, fine iron lace work, interesting brick façades and verandahs… it's a fascinating look at the design and construction industry of the time.
Self-Guided Walking Tours
Doing a self-guided walking tour is just one way to learn about the Port's distinct character… and now there's an app for that.
The South Australian Maritime Museum invites you to discover some of Port Adelaide's colonial history with their free phone app, Living in Port. There's even an image slider feature to help you experience how life was by comparing our historic past with modern day streets. Get the app and try it out!
If you prefer something on paper instead, head down to the Visitor Information Centre and grab a Heritage Self-Guided Walking Tour brochure. There are 42 'points of interest' to plan your route around.
Visitor Information Centre
66 Commercial Road, Port Adelaide
08 8405 6560
Open 7 days, 9am to 5pm
A Walk On The Wild Side
Some stories of the past are perhaps better left in the past, others are just a bit too curious to leave alone.
As you'd expect, Port Adelaide's history has its sinister side too; and if you're the sort of person who likes a haunted tale or two, you might want to brave a Ghost Crime Tour.
Based around the spookier streets and historic locations where ghosts have been known to lurk, you may discover the 'spirit' of Port Adelaide is alive and well. Hear the stories, consider the evidence and draw your own dark conclusions.
Loop Path Interpretive Trail
Discover more of Port Adelaide's history as you follow the new interpretive trail around Inner Harbour. It's almost a case of one step forward, many years back, as you take a wistful trip down memory lane.
With key lookout points along the way, this cultural walking trail highlights some of the areas of local significance through stories and images of days gone by. Enjoy the river views from the Birkenhead Bridge shelters and check out the signage along the way that has been made from recycled wharf timber.
Click the map for a larger image: