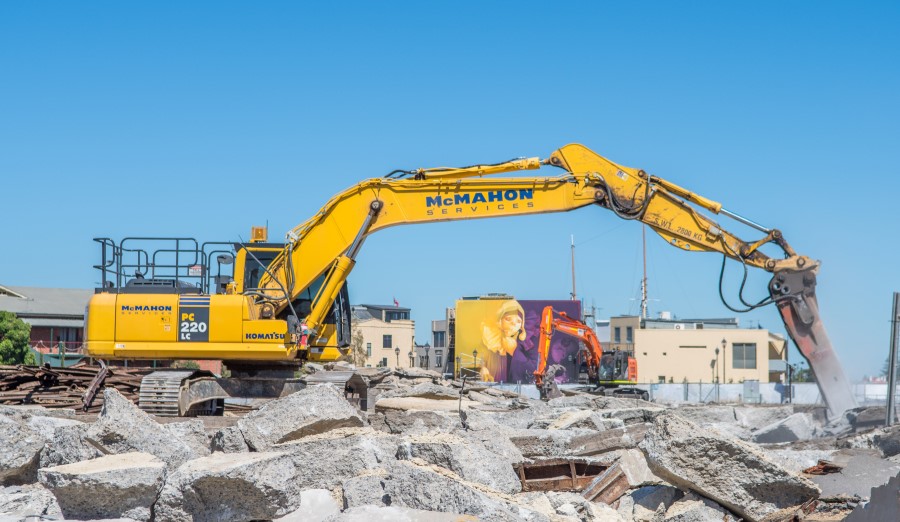 Construction has begun on the redevelopment of Dock One at Port Adelaide into a thriving residential, commercial and tourist precinct after contracts for more than 21 hectares of waterfront land were finalised.
The State Government has accepted offers from Starfish Developments for the Dock One and Port Approach sites, and Cedar Woods for the North West and Fletcher's Slip precincts. Together the proposals are expected to generate more than $280 million in private investment and deliver approximately 1150 new homes for up to 2600 new residents.
Major contractor McMahon Services has begun working on site preparation for on the first stage of the Starfish Developments proposal at Dock One.  Starfish Developments Managing Director Damon Nagel says "Starfish Developments is delighted to have been selected to be part of the transformation, a rare opportunity to evolve one of the last underdeveloped Australian dockland areas into an iconic thriving place for generations to come."
The overall proposal also includes redeveloping the Marine and Harbors building into apartments and ground floor retail premises with 650 homes planned for the seven-hectare Dock One and Port Approach (South) sites. Following public consultation, extra open space has been included, while public access to the waterfront will be maintained with a promenade and a pedestrian bridge across Dock One.
"We have worked hard to strike the right balance between attracting more people to live in Port Adelaide and ensuring that any developments are in keeping with what the community wants for the district," says Housing and Urban Development Minister Stephen Mullighan.
Approximately 500 homes are also planned for the 14-hectare North West and Fletcher's Slip precincts. The redevelopment includes re-using the Fletcher's Slip buildings, significant open space and a second pedestrian and vehicle connection from New Port Quays to Semaphore Road.
Together the residential developments are expected to support about 250 direct and indirect jobs a year during construction.
Both proposals are staged and are subject to development approval. This is all part of a broader Government strategy to revitalise Port Adelaide, together with the City of Port Adelaide Enfield.  Member for Port Adelaide Susan Close believes this is "a great sign of confidence in our area. This revitalisation is set to continue with this private sector investment which will bring thousands of new residents to come and live in the Port."