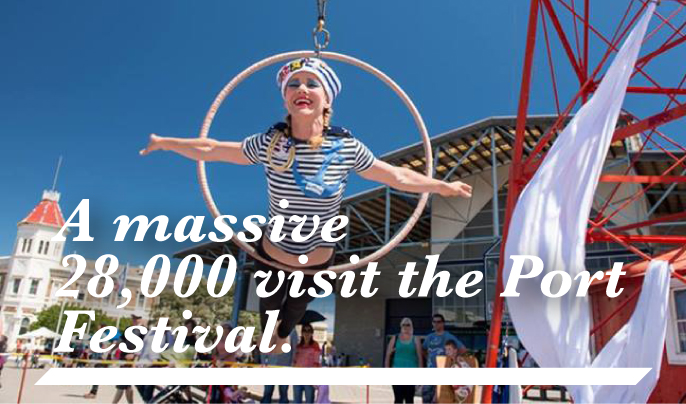 The biennial Port Festival literally lit up the heart of the Port last weekend with a brilliant array of events
Approximately 28,000 visitors came to the Port and discovered over 100 activities around the area. The Festival was lit up with the amazing projections on Lipson Street by Illuminart, masters of animated architectural projections.
Divett Street was bustling with curious shoppers enjoying the artists' market and the Little Palais contemporary circus tent was filled to capacity every performance. As a special treat, the three museums were free to enter and (not surprisingly) the Maritime Museum had one of its busiest days all year!
Red Lime Shack's pop up café in a laneway off Lipson street proved to be a hotspot with a steady stream of visitors enjoying the wonderful ambience, delicious food and drink and great music!
A hoard of children took part in the Suitcase Mural workshop and many school kids saw their luggage tags decorating the fencing around the Visitor Information Centre.
The Giant Suitcase, or stack of suitcases, became the focal point of the Festival in a prime location next to the markets. Renewal SA was proud to support both suitcase projects.
The Festival was a great success. It was a wonderful, warm and busy weekend in our Port and it will be hard to top this year's success… but roll on 2015!
Visitor Information Centre heritage restoration complete
The Visitor Information Centre in Port Adelaide is a well-loved landmark building on Black Diamond Square, at the corner of Commercial Road and St Vincent Street. It has undergone vital heritage restoration works, returning it to its original stone condition thanks to funding from Renewal SA and the City of Port Adelaide Enfield.
External upgrade works have been carefully carried out by Heritage Stone Restorations, a national award-winning company specialising in the conservation and restoration of historic buildings and monuments. Through painting and masonry repairs, using conservation materials and techniques, Renewal SA have helped restore this significant building to its former glory.
Together with the City of Port Adelaide Enfield, Renewal SA is prioritising a series of infrastructure works as a result of feedback from the local community. These works will increase public open space areas, restore historic buildings and activate Port Adelaide for both locals and visitors.
Customs House
Works have commenced on the external repairs to Customs House with paint removal the first task, followed by waterproofing and window restorations. Works are expected to continue until around March 2014. Renewal SA is co-contributing to the works along with the building owner.
Angle parking complete
Physical works on the south side of St Vincent Street angle parking project are now complete. The project is still to undergo landscaping decoration, but the new parking is open and ready to provide you with convenient access for your next shopping visit.
Loop Path progress
Fencing has commenced on site for the Bike Loop path. The resurfacing of Jenkins Street is due to commence in the next few weeks and once complete, line marking will follow. Works to continue the path along Causeway Road will commence in mid-November in preparation for work on the Birkenhead and Jervois Bridges in the new year.
The loop path will provide a 2.2km route along the Inner Harbour, access to the riverfront and will also incorporate interpretive signage, seating and shade.
Hart's Mill
Hart's Mill is the next priority for Our Port with works on the ground due to start soon. Keep an eye on Our Port social media for updates.
The finished design features a 600 sqm interactive playground, space to accommodate markets and events as well as public amenities such as seating, shade, BBQ area, toilets and car parking.
Upcoming events at Our Port
Feast Festival
9-24 November 2013
In this year's Feast program, there are many events supported by Renewal SA that will be taking place in Port Adelaide throughout the whole of the Festival. There will be a range of arts, comedy, music, cabaret and other shows happening in the Port. Download the full Feast program here.
Cutaway – A Ceremony
20 November – 1 December 2013
Created and hosted by a team of artists and locals and supported by Renewal SA, 'Cutaway – A Ceremony' offers up a beautiful, never-to-be-repeated experience. These ten limited-edition events, unique each night, complete the Cutaway trilogy — a series of site-specific performance and art works made about the Waterside Workers Hall over the last three years.
Gear Up Girl SA
Sunday November 24
Join a thousand other women for Adelaide's biggest bike ride for women only. With 15, 40 and 50km routes to choose from, this ride gives women from all kinds of cycling backgrounds a great excuse to get the girls together and enjoy a great day out on their bike.
The 40km ride will be coming through Lighthouse Square, so make sure you stop at the Renewal SA refreshment station for a break and see if you can spot some dolphins.
Register at www.bikesa.asn.au.
Take a Redhen to Port Adelaide
30 November – 1 December 2013
The National Railway Museum and SA Department of Transport Services will be bringing back the iconic 1950s suburban Redhen train for one weekend only on Saturday 30 November and Sunday 1 December 2013.
Trains will leave the railway museum at Port Adelaide from 10.00 am hourly through to 4.00 pm, and from Adelaide railway station from 10.30 am to 4.30 pm on both days. Each return trip will take about 50 minutes and cost $10.
Integrated Transport and Land Use Plan Consultation Day
A 30-year plan for the state's transport systems has been released for public consultation. The Integrated Transport and Land Use Plan is a detailed blueprint for a stronger transport future for South Australia.
As part of a comprehensive, state-wide engagement program, two consultation days will be held at the Port Mall Shopping Centre, on Friday 15 November or Sunday 17 November 2013.
Please visit www.transportplan.sa.gov.au or call 1800 767 254 for the full range of opportunities to be involved and for detailed information about the Plan.