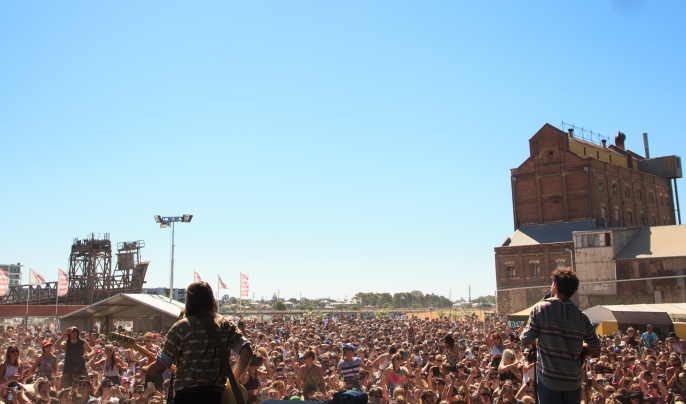 Laneway Festival returns to Our Port
After its hugely successful debut earlier this year, St Jerome's Laneway Festival will be making a welcome comeback on Friday 6 February 2015. The festival is all about taking fresh, new music to interesting and unique locations around Australia and has hosted some of the world's best artists before they went on to become major stars. We are thrilled that the event will encourage thousands of Adelaideans to visit the Port for a dynamic and memorable live music experience.
Against the cool, flowing backdrop of the Port River waterfront, Laneway Festival 2015 will return to the historic site of Hart's Mill. The artist line-up will be announced shortly, but we do know already that thanks to the newly completed landscaping project, there will be more grass and more shade to enjoy this time. More incredible food is also expected and for the first time ever, Adelaide will welcome those aged 16 and upwards to the event.
Subscribe now for access to exclusive pre-sale tickets at lanewayfestival.com.au.
 Planes, Trains and Vintage Boats!
Three of our great museums are joining forces this long weekend to present the Festival of Vintage Boats, Trains and Planes. On Sunday 5 and Monday 6 October you can enjoy free entry into the SA Maritime Museum, the National Railway Museum and the SA Aviation Museum right here at the Port.
There will be free demonstrations by sailmakers, shipwrights, blacksmiths and aircraft restorers as well as vintage aircraft engine runs.
Experience the wonders of old and elegant engines and carriages, and discover hidden nautical treasures from the SA Maritime Museum including power boats, James Hardy's championship skiffs and a naval whaler. For a gold coin donation, you can also climb on board the tall ships 'Falie' and 'One and All'.
If you're looking for a ride on a vintage train, why not get yourself a ticket on board the 1950s Redhen trains that will be running between Adelaide Station and the National Railway Museum. Or there'll be a 1919-built steam train you can hop on to travel between the Railway and Aviation Museums. You can also grab a scenic helicopter flight or hot air balloon ride over the Aviation Museum (weather permitting). You'll have a great day out for sure!
A new look for the Packing Shed
Mundy Street is looking refreshed with the new façade to the Packing Shed now complete. The building was originally used for offices and a chemist's workshop where the wheat and flour were tested during the mill's operation from 1860.
After the mill closed, the building, and the adjacent Flour Shed, was used by the South Australian Aviation Museum from 1986 for ten years until they relocated to their current home on Lipson Street.
Originally all galvanised iron, this structure dates back to 1860 at the eastern end, and has seen gradual additions over time with the lower façade being modified to brick contruction around 1924. Renewal SA consulted a heritage advisor to complete this heritage restoration. More internal work is still required before the building can be tenanted and used. This work will be undertaken in consultation with future tenants and their needs.
A changing Port
Renewal SA is prioritising a series of infrastructure works in line with the Port Adelaide Precinct Plan. These works will improve streetscape, restore historic buildings and activate Port Adelaide for both locals and visitors.
Flour Shed shapes up
The Flour Shed continues to be a hive of activity with internal works progressing well. A tender has recently gone out for a contractor to begin construction of further internal facilities. This work should carry through until the end of the year and be complete by the summer 2015.
Free car park now open
Here's a tip for convenient parking at the Port. The brand new car park on the south side of Hart's Mill is now complete. And not everyone knows about it! It's a great spot on market days and will provide convenient parking for other upcoming events at Hart's Mill.
Dig this live training!
Last week, Carey Training held a live training course to give practical experience in excavation. The training took place on Renewal SA-owned land just north of Dock One and is another example of Renewal SA's commitment to training members of the local community.
Watch this space for upcoming opportunities and the latest live training programs this summer.
Upcoming events at the Port
Kidz Day Out
28 September 2014
Our Port and City of Port Adelaide Enfield will be holding a bright family fun day for all kids at Hart's Mill this Sunday.
KooKy Kidz Markets will be showcasing high quality gifts, clothes and handmade products with something for every family member. The Kidz Zone promises hours of fun with live shows and free activities such as bouncy castles, arts and craft, face painting and balloon twisting. Those who'd like to take a break can take advantage of the selection of foods on offer.
The markets will be open 3 pm–7 pm, followed by a free screening of family favourite, Frozen. Bring your picnic blankets!
Surprising Sundays
5 October 2014
Here's three hours of fun you won't want to miss this October long weekend. Across two locations at the Port, it's a 'Double Delight'!
Over at Lighthouse Square will be two, fully supervised kids craft activities. Kids can experiment with colours and textures and have something special to take home at the end. There'll be a low-level activity area for toddlers too, so the little ones don't have to miss out.
Meanwhile in the green space at Hart's Mill, it's Giant Games Time! Challenge your family to a life-sized game of Connect 4, Snakes and Ladders or Jenga. All the games will be set up and ready to play.
Activities will run between 10am and 1pm in both locations. Come along and see how much fun you can fit in.
The Vitalstatistix Community Fair
8 & 9 November 2014
Local theatre company Vitalstatistix will throw open their doors for a weekend of stalls, food, drink, music, tours of Waterside Workers Hall, local performers, participatory experiences and general merriment to celebrate 30 years in Port Adelaide.
Gear Up Girl
23 November 2014
Adelaide's biggest bike ride for women, Gear Up Girl is happening again on Sunday 23 November. There are 3 different ride options which begin and end at Elder Park. All ages and all levels of experience are welcome to join in the fun. Why not join the 40km Beach Ride, following the new Greenway corridor from Bowden to Port Adelaide. It's a safe mix of quiet roads and shared use paths.
You can register now at www.bikesa.asn.au/gearupgirl, a small fee applies, but children under six are free.
Adelaide Fringe 2015
Call for artists and venues
It may not be Mad March yet, but Adelaide Fringe is already looking for interested artists and venues to join the 2015 festival. Want to get involved? It's a great opportunity to reach new audiences or showcase your venue.
For more information, visit www.adelaidefringe.com.au/participate. Registrations close 8 October 2014.